Flights to England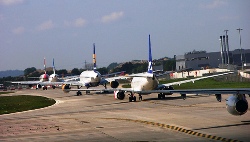 When flying to England there are plenty of airports to choose from, all receiving international flights. A couple of them are served by low-cost carriers which makes flying into England quite affordable.
Airports and airlines
London is the main gateway into the UK and therefore into England as well. The capital is served by a total of 6 airports. Here's a description of the biggest three (the most used by international travelers).
Heathrow (LHR) is the city's main airport and the busiest in the world in terms of international passenger movement. It receives flights from virtually all over the world. It now has 5 Terminals but even so it can get so crowded that flights are delayed up to an hour because there aren't enough parking spaces available. To get from Heathrow to the city, you have several options: Heathrow Express rail to London Paddington (15 minutes), Heathrow Connect rail to London Paddington but has several stops along the way (25 minutes), London Underground on Piccadilly Line (cheapest alternative but the journey takes about an hour).
Gatwick (LGW) is the second largest airport in the city and is served by carriers from all over the world. To get to the city you have several options: Gatwick Express to London Victoria (30-35 minutes), Southern Railway to London Victoria (35-40 minutes), First Capital Connect to London Bridge and then heading north.
Stansted (STN) is the third largest airport in London and is served by a large number of low-cost carriers, such as EasyJet and RyanAir. It also receives flights from several European cities and few intercontinental flights.
Other major airports in England outside London include:
Manchester International Airport (MAN) is served by carriers from all over the world. . It's the largest airport in UK outside London and is located south of the city. Over 100 carriers from Europe, Asia, Africa and America (North and South) offer direct flights into this airport. The airport is also served by low-cost carriers such as Jet2, which connects Manchester to a lot of European cities.
Liverpool John Lennon Airport (LPL) is served by carriers from Europe and North America as well as by domestic carriers. It's one of the hubs for low-cost carriers such as EasyJet and RyanAir. There are several bus routes which connect the airport to the city.
>> Learn more about the airports in England
Tips to get a cheap ticket to England
With so many low-cost carriers flying into several airports in England it's really easy to find a cheap ticket. Plan well in advance to benefit from the large discounts. Don't forget to check all airlines and possible flights because chances are you won't have to fly into London and then to catch a domestic flight.
If you want to visit England during summer try to plan your flight mid-week as opposed to weekend. The mid-week flights are less crowded.